Do you like playing with energy and your intuition, manifestation and spiritual-empowerment? If so, then would you like to participate in a new summer beta-programme that I'm trialling through August and September 2022? This is 121 transformational coaching support with tarot for a small number of individuals at a super-affordable price!
If it resonates, don't wait! These spaces will soon be gone.
Special invitation
Transformational Tarot  6-week Beta Programme
Would you like to find out more about how these powerful archetypal cards can awaken more of your intuition and connect you with the unconscious beliefs that might be blocking your flow of abundance – and start to clear or heal them?
If so, I'm running a 'Transformational Tarot' 121 summer beta-programme through August and September this year, which will be a fun and fascinating journey into yourself with lots of practical coaching, divine guidance and plenty of hand-holding when you need it.
* In order to have your feedback so that I can develop the programme further, I'll be running it at a very reduced price for a small number of people.
This would especially help you if you're going through a life transition, such as your children leaving for university, a relationship break-up, retirement, changing or losing your job, reinventing your business, bereavement, moving to another country, reaching a pivotal age or time in your life – and it's especially relevant for many people right now following the shake-up of the Pandemic.
If you find yourself evaluating your life, you have lots of questions about your success, what you're doing with your life and why, where you're going and what's important to you, then this could be a good way to reclaim and recover your sense of self, discover what you want for your life and kick start a new joyful and fulfilling way of living and being.
My intentions for the Transformational Tarot programme are:
To help you tune into a clearer vision of what you most want for your life. 
To  offer clarity about your next steps so that you can get unstuck and move forward in a way that feels good to you.
To highlight where your hidden blocks are that cause fear, procrastination, or confusion so that you can address them head on, begin to clear them and build up resilience to the things that might typically distract you, trip you up or pull you off your path.
To get your momentum going in the most aligned direction for you.
To give you lots of touch-points to ask questions and get answers, leaving you in a state of congruence and coherence where your heart and mind are working harmoniously together, oriented towards the outcome you desire.
What's included?
60-90 minute deep dive session + vision activation process
We will kick off with an initial tarot spread to address your current life situation and explore what you are wanting to change through the mirror of the cards and through your energetic resonance with their guidance. This resonance within you acts as your internal compass for what's true and aligned for you, and as you progress through the programme you will develop this awareness further.
As more questions come up we will do further spreads that go deeper and deeper into the underlying patterns and inner obstacles at the core of the situation, as well as the gifts and resources available to you. We will talk about every area of your life so that any guidance you receive feels congruent and holistic, and do a short guided activation process to get a clear sense of your highest intention and vision.
The cards act like an amazing mirror that connects you with your higher guidance, your conscious awareness and your unconscious mind. I use my coaching skills and my intuitive gifts to help you ask powerful questions and I often channel information through.
Since you will be totally involved in the exploration process, it will help you develop your own intuitive abilities, you'll pick information up from the cards yourself that resonates and it will strengthen your trust in the process.
It's a gorgeous collaboration between you, me and Source, which guides the cards.
Weekly sessions
There will be five further sessions between 30 – 45 minutes long, once a week* held via Zoom designed to keep your momentum going by giving you chance to ask the deeper questions that come up along the way.
Voxer messaging
In between weekly calls you can ask me questions that I will answer with the cards via Voxer messaging. Voxer is a voice messaging app that you use like a walkie-talkie. If you have anything come up that causes you to stall or question yourself, you can leave me a voice message and when I next have time I will do a quick spread and leave you a voicemail with answers from the cards, which might be a simple one or three-card spread or a slightly more complex spread, depending on your questions.
This will generally be from Monday to Friday, but if I am able to answer I will. You can do this a couple of times a week if you need to, so you never need to be stuck for too long.
When you have ongoing easy access to empowering, clear guidance and support that helps you cut through the mental noise and stops you from getting in your own way, you can more easily:
Understand the reason for certain past experiences and let go of confusion and emotional overwhelm.
Take command of current challenging situations and remain calm and centred.
Feel reassured and make decisions with confidence.
Keep your energy high and your momentum going.
Develop your self-trust.
Catch your sabotage patterns before they have a chance to trip you up.
Know that you can say 'no' and mean 'no'.
Shed new light on relationships, your finances, your wellbeing and your work.
Open up to new opportunities.
It will be like having a non-judgemental friend on hand to gently encourage, champion, inspire and offer guidance to help you begin your transition and move forward step by step until you feel confident enough to fly on your own.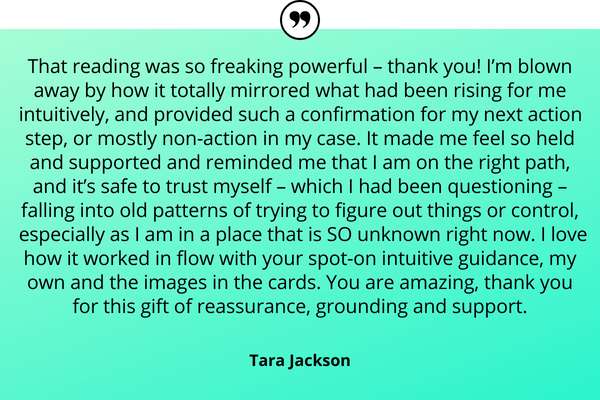 Special Investment: Only £295!
Currently, I charge £100 for a single one-hour transformational tarot session or £222 for a healing and alignment session.
This unique programme will be a bit of a blend of both where you'll be getting between five and seven hours of my 121 time for a really low investment of just £295.
(*as part of the deal I will ask you for feedback – and a testimonial if you feel it's served you.)
I have the capacity for six or eight spaces, so if you're interested, drop me an email in the next few days and we can schedule a quick chat to get the ball rolling. 
* Please note, I will be away and unplugged between 25th July and 2nd August, so if you'd like to secure a place then it's best to contact me before then.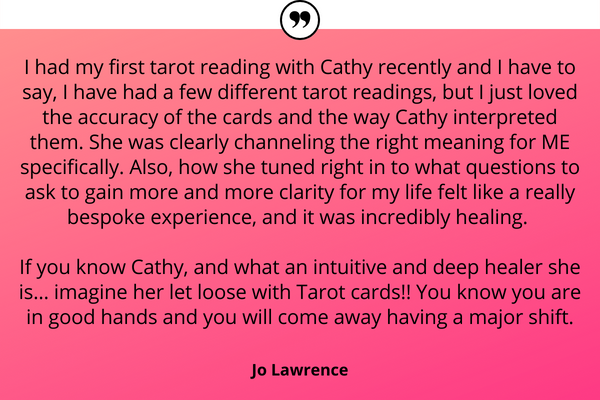 Here's a recap of the Transformational Tarot key details…
What's included
1 x 60-90 minute deep-dive – transformational tarot + highest vision activation to set intentions
5 x 30-45 minute weekly transformational tarot sessions.
Twice-weekly Voxer questions to get unstuck, should you need them.
When
August / September
Where
Online via Zoom video call – calls will be recorded
Investment
£295 + feedback + testimonial
Contact me at connect@cathyballard.com if you have any questions or you'd like to register your interest in participating as a beta-tester. If you'd like to arrange a brief chat about the programme, then click here to book a time for us to talk via my online scheduling service. Or if you'd prefer to have a single 'Transformational Tarot' session with me, click here.
Much love,