How much do you believe that the universe will catch you if you make a big leap of faith?
When you keep following your heart towards your true desires, in spite of the fear that arises from going against what your head says, it can pay HUGE dividends and transform your life. 
 But it's easy to let fear creep in, take control, and fill your head with worry, self doubt and limiting thoughts.
If you believe what you're thinking is true about you, and you're not prepared to get uncomfortable and challenge your fear, that's when you shrink back from your edge, and your dreams and desires stay out of reach.
Self sabotage!
However, when you courageously step out far enough and burn your bridges to your old way of being so there's no going back, it's helpful to know that you have unlimited support from the universe available to you.
You just need to remember to ask for it!
And when you do you will fly rather than fall.
In this video I share what happened to me when I asked the universe for support, just days away from becoming homeless!
 
Unconsciously believing the limiting thoughts you're thinking – the thoughts of the false self – is keeping you stuck, playing small and separate from the unlimited flow of abundance that's available to you.
But aligning with your True Self, the infinitely powerful YOU that's inseparable from Source, will set you free to live the unique, magnificent life you were born for.
I have a number of people who I work with to help me catch and transform my limiting beliefs. We all need other people to help us see what's keeping us trapped because our false self is so sneaky!
We simply can't see them all ourselves.
You are an amazing individual with infinite potential to live a wonderful life beyond your wildest dreams. Please don't struggle on alone getting unsatisfying results when there's help available to you from all kinds of therapists, healers, coaches and mentors.
If you have a desire and a calling to be, do and have more, don't make the world wait before you show up in your brilliance!
If you enjoyed this post please like, comment or share with your friends. The more people who know about the true power they have, the better for everyone and the planet!

I help people to awaken and get in touch with their spiritual gifts to create more abundance, ease and flow in their lives. Empowering you to rapidly release the blocks creating your current reality in a safe and gentle way is what I do best.
If you would like to find out more about how working with me can help you, book a complimentary 30 minute call here, message me below or contact me at connect@cathyballard.com.
Be fearless, dream BIG and live an unlimited life – there is magic coming! 
 
To your transformation.
Much love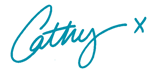 Please follow and like us: